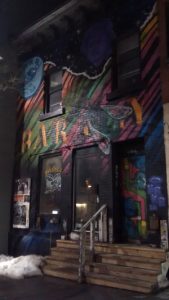 I played the Barfly on March 21 along with 3 other music acts.
As usual I was the opener. I used an EHX 720 2 channel looper pedal. When I played "I'm A Man" I decided to loop a kind of ambient chord like Robert Fripps looping method from the late 70's, in other words it was just a loop with a series of swelling notes that are not set to a fixed time meter.
Once I created the loop, I proceeded to do a bluesy improv over the loop.
Also I brought back the loop during my solo.
Here is a short segment from that performance giving you an idea of the loop section.