It's open mic night at Brutopia on Crescent street in Montreal.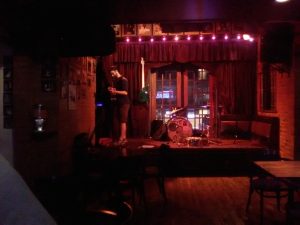 Tonight I played Stick with no effects or any other gadgets or looper.
I have no choice because all my gear is at home except my Chapman Stick and 1 cable.
So let's make the best of what I have and make it as percussive as is possible. After all it's a solo performance….
(1 hr later) played 4 songs:
Stormy Monday
The Lie
Cause we've ended as lovers
I'm a Man
Very well received but a bit awkward without the effects pedals and my amp. Played through the house system.
A very laid back but wonderful crowd.
Look forward to do it again.
Thanks to Elisha (the musician who hosted), Wes (The bar man with great insight into Vietnamese coffee), Kamal (musician / music enthusiast) and everyone at Brutopia.