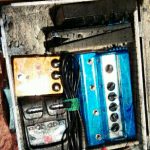 Well it has been a while…
I have been busy with renovations to our home and some medical procedures. (I won't bore you with all the details, but I am doing just fine)
Now that all of this has come to pass, I did a short video in the midst of the renovations.
It is a stop frame of all my gear being set up over a time lapse video shoot.
You will seem my set up:
Phil Jones Bass amp
Fender GT100
Line 6 MM6 and Diamond compressor for the bass side
TC Electronis MojoMojo and Digiteck RP55 for the treble side + an expression pedal
An EHX 720 looper is also in line for both sides.
I am looking forward to actually recording some music in the updated studio environment.